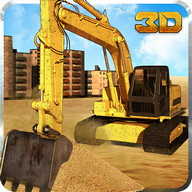 Sand Excavator Dump Truck Sim
描述
Sand Excavator Dump Truck Sim Android Game
获取背后巨大的挖掘机的方向盘,在驾驶位置采石场起重机
Play as constructor worker in this newest construction lorry 3D simulation game "Sand Еxcavator Dump Truck Sim". Drive backhoe, digger and planer lorry on quarry site in your android and mobile tablet.
Feeling exciting to drive, operate gigantic construction cranes and heavy equipment builder vehicles in excavating machines. Sand Еxcavator Dump Truck Sim provide you fresh and free 3D simulator game for quarry crew construction site. Drive 4 different types of mega cranes, as construction crane crew worker, fulfill task of crane operator. Tighten your steel belt sit behind steering wheel of transportation vehicle to transport building material and sand from one location to other. As constructor crane operator start controlling cutter excavators crane, digger truck, dumper truck, planer lorry and more. Load material in your dump tractor and drop off cargo from one location to the next. Be a part of adventure drive backhoe crane and digger to show some real time constructor skills on building site. Driver drill excavator on toughest paths up hill routes and crush rock with drilling cranes. Use dumper loader lorry to transport construction material to final destination. Play this simulation 2016 at lunch time in office or in free slots of time anywhere with best parking experience.
Drive forklift and damper lorry on quarry site, you will love driving gigantic construction machines in challenging missions. Show some real time driver and uphill crane operator skills in this awesome game. You will love control for digging, lifting load in this superb lorry simulation game. Sand Еxcavator Dump Truck Sim is not regular parking or driver game where you just drive in empty lot or park tractor. You have to face challenging constructor missions in open world map with time race and other challenges. Steer the enormous tractors, use gearbox for multiple tasks. Download free this game in your android phone or tablet for have unlimited fun for 2015. Dig holes with digger and load dirt sand on loader tractor super fun game for mature boys and girls. Play adrenaline filled games like bulldozer and bridge builder games real difficult puzzle. Show your driving talents with real manpower on construction site.
"Forklift, steam roller, road roller and more construction vehicles and big machinery will be added soon"
Features:
◆ Superb 4 quarry trucker machines like cutter excavators, digger, dumper and planer
◆ 10 breathtaking construction based hardcore simulation mission
◆ Realistic physics controls for cranes movement, winch, brake, race and steer
◆ Not some parking lot to park builder vehicles, drive in brand fresh open map for quarry location
◆ Superb crane operator experience with real life physics in driving lorry simulation
◆ Smooth steering wheel control with hydraulic winch, brakes pedal and gearbox
◆ Real life graphics and great gameplay to enhance your driver experience for mega cranes
信息
信息
你可能还喜欢:
Android游戏服务由PHONEKY提供,100%免费!
游戏可以通过三星,华为,OPPO,Vivo,LG,小米,联想,中兴等Android操作系统手机下载。
頁面訊息
為Android手機下載Sand Excavator Dump Truck Sim遊戲 - 最好的Android游戏之一免费!您可以在手机或平板电脑上免费下载安卓平板电脑。漂亮的图形和令人上瘾的游戏将让你玩得很久。在PHONEKY,你可以找到许多其它游戏和各种各样的风格应用程序,从冒险和动作到逻辑和赛跑。下载免费的Android游戏和应用程序到您的手机,平板电脑或电脑。要查看Android的十大最佳游戏,只需按受欢迎程度排序即可。
嗯