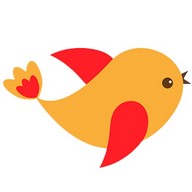 Flappy Bird
描述
Flappy Bird Android Game
Flap your way through all the obstacles
Flappy Bird is a shameless clone of the original Flappy Bird, the game developed by dotGEARS. Here, you play a happy little bird who has to fly through tons of obstacles, or in this case, brick walls.
Just like the original, the gameplay in this Flappy Bird is simple. You just have to tap the screen with a steady rhythm to make your bird flap its wings and pass through the walls in your path. Once you've gotten the hang of it, you can challenge yourself even more by trying to collect the stars and coins scattered between the walls. Another unique aspect of this game is that from time to time you'll find portals that will let you pass through a wall without having to flap.
Getting more than five points (by passing between five walls) is a real challenge, since keeping up a steady rhythm with your flaps is complicated. In fact, you need plenty of practice before you start seeing any improvement and the game stops being so frustrating. Each time you pass through a wall, you get one point.
Flappy Bird is an arcade game with a simple gameplay that presents a complicated challenge. But that's exactly why this type of game is so successful: it manages to keep you hooked with a high level of difficulty but sweet rewards once you master it. It'll keep you coming back over and over to try 'just one more time.'
信息
信息
你可能还喜欢:
Android游戏服务由PHONEKY提供,100%免费!
游戏可以通过三星,华为,OPPO,Vivo,LG,小米,联想,中兴等Android操作系统手机下载。
頁面訊息
為Android手機下載Flappy Bird遊戲 - 最好的Android游戏之一免费!您可以在手机或平板电脑上免费下载安卓平板电脑。漂亮的图形和令人上瘾的游戏将让你玩得很久。在PHONEKY,你可以找到许多其它游戏和各种各样的风格应用程序,从冒险和动作到逻辑和赛跑。下载免费的Android游戏和应用程序到您的手机,平板电脑或电脑。要查看Android的十大最佳游戏,只需按受欢迎程度排序即可。
嗯