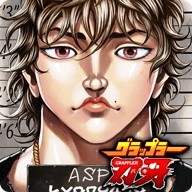 Baki the Grappler: Ultimate Championship
描述
Baki the Grappler: Ultimate Championship Android Game
Official Baki the Grappler game
Baki the Grappler: Ultimate Championship is a fighting game for your Android where you take on the life of the infamous Japanese 90's manganime character: Baki the Grappler. With full-throttle combat and spectacular fighting scenes, this game was a huge hit back then, and is making waves on Android, as well.
Game systems in Baki the Grappler: Ultimate Championship are relatively simple. Towards the left of your screen you'll find a list of techniques to deploy simply by tapping on them. On the other side, there's a button that controls attacks you've already launched, but this time in terms of technique: once you hit an attack, you'll also need to regulate how well it was executed by tracing a pattern of dots on your screen.
Starting out, you only have a single character to play with. But, thankfully, as you unlock new characters in 'story-mode' you'll find that there are more and more heroes to play as, each with their own techniques that you unlock as you progress.
Baki the Grappler: Ultimate Championship is a spectacular fighting game, graphics-wise; and it's at no loss for brutal attack combos, either. Plus, its outstanding graphics come as no surprise, taking into account how good they are in the original manganime series.
RequirementsAndroid 4.4 or higher required
信息
信息
你可能还喜欢:
Android游戏服务由PHONEKY提供,100%免费!
游戏可以通过三星,华为,OPPO,Vivo,LG,小米,联想,中兴等Android操作系统手机下载。
頁面訊息
為Android手機下載Baki the Grappler: Ultimate Championship遊戲 - 最好的Android游戏之一免费!您可以在手机或平板电脑上免费下载安卓平板电脑。漂亮的图形和令人上瘾的游戏将让你玩得很久。在PHONEKY,你可以找到许多其它游戏和各种各样的风格应用程序,从冒险和动作到逻辑和赛跑。下载免费的Android游戏和应用程序到您的手机,平板电脑或电脑。要查看Android的十大最佳游戏,只需按受欢迎程度排序即可。
嗯